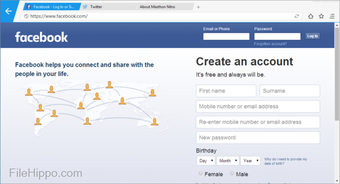 1/3
Maxthon Nitro is a trimmed, speedier version of the very popular Maxthon Cloud Browser. This version has been stripped down to bare necessities of browsing in order to provide an unparalleled launching and operating speed.
Key Features include:
Rapid launch and page loading speeds.
Pre-fetching and predictive fast website launch.
Multi-tabbed interface for multitasking.
Support for mouse gestures.
Customizable interface.
With Maxthon Nitro all the common functions and tools, such as ad-blockers, cloud services and extensions have been disabled, and the emphasis has been placed upon speed loading and multitasking tools.
Advertisement
The browser uses complex algorithms, which analyze usage patterns and it is able to pre-fetch and pre-load web pages in a predictive manner. However, it is not just the way the browser can retrieve information that makes it quick. It also supports various mouse gestures to help with muti-tasking actions and instant execution.
Overall, Maxthon Nitro is a very quick web browser. It can retrieve content in a timely manner and has been designed to be lightweight, agile and useful. If, however, you are looking for a feature rich web browser, then this might not be what you are looking for
Advertisement
Technical
Title:

Maxthon Nitro 1.0.13000 for Windows

File size:

32.88 MB

Requirements:

Windows 98,
Windows Vista,
Windows 2003,
Windows 10,
Windows 8,
Windows XP,
Windows 2000,
Windows 7

Language:

English

Available languages:

English,
German,
Spanish,
French,
Italian,
Japanese,
Polish,
Chinese

License:

Free

Date added:

Wednesday, June 1st 2016

Author:

Maxthon International Ltd

SHA-1:

d0b27a2d5bbbdb4f2db62b77fdd556b1a2ea3bc4
Changelog
We don't have any change log information yet for version 1.0.13000 of Maxthon Nitro. Sometimes publishers take a little while to make this information available, so please check back in a few days to see if it has been updated.
Can you help?
If you have any changelog info you can share with us, we'd love to hear from you! Head over to ourContact pageand let us know.