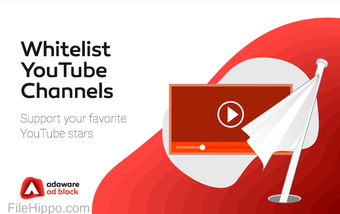 1/3
adaware ad block is a fast and safe ad blocker. By blocking annoying ads and nosy trackers, adaware ad block nearly doubles your browsing speed! And with the most robust antivirus-level cloud-scanning technology of any ad blocker on the market, you'll be safe from the latest cyber-threats. Say goodbye to uninvited interruptions, and hello to peaceful browsing.
Key Features include:
Block Ads & Trackers.
Antivirus-Level Web Protection.
Speed up your Browsing.
Whitelist Sites & YouTube Channels.
Block Ads & Trackers.
With adaware ad block you can block annoying ads such as banner ads, pop-ups and video ads and hide your digital footprint. It also has Antivirus-Level Web protection. You can trust adaware cloud services to protect you from dangerous websites in real-time.
adaware ad block efficiently filters out ads and trackers faster than any other ad blocker on the market. See what it's like to nearly double your browsing speed!
Advertisement
Overall adaware ad block is able to block website ads, pop-ups and video ads, ensuring a faster online experience with fewer interruptions. Built-in security features protect your privacy and a simple user interface gives you full control of your online experience.
Advertisement
Technical
Title:

adaware ad block 2.0.3.7 for Windows

Requirements:

Windows 98,
Windows Vista,
Windows 2003,
Windows 10,
Windows 8,
Windows XP,
Windows 2000,
Windows 7

Language:

English

Available languages:

English,
German,
Spanish,
French,
Italian,
Japanese,
Polish,
Chinese

License:

Free

Date added:

Wednesday, June 20th 2018

Author:

Lavasoft

adaware ad block
2.0.3.7
Lavasoft(Free)
User rating User Rating 4
Changelog
We don't have any change log information yet for version 2.0.3.7 of adaware ad block. Sometimes publishers take a little while to make this information available, so please check back in a few days to see if it has been updated.
Can you help?
If you have any changelog info you can share with us, we'd love to hear from you! Head over to ourContact pageand let us know.