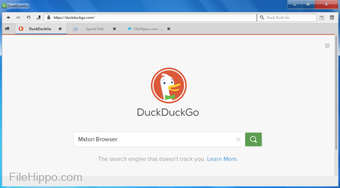 Midori is a fast, lightweight and easy to use web browser. The interface is minimalistic and uncluttered, providing you with exactly what you need; the core navigation buttons to surf the Internet.
Apart from the simplistic style, Midori does have a few cool features worth noting. The Speed Dial site launcher screen and the default Duck Duck Go search engine, to name a couple. There is also an RSS icon in the address bar, for when your chosen feeds are available. By default, your tabs from your last session are reopened when you next use Midori, and the app does feature some helpful built-in privacy tools, including script disabling, and third-party cookie blocking. It also has an integrated ad-blocker and cookie manager installed with the included extensions.
As far as speed goes, Midori really is, quite a fast web browser, utilizing the latest web technologies and a tiny, yet agile array of extensions, which provide most of the features that you need in a basic browser.
Advertisement
Navigating the app is child's play, and it won't take you long to locate all the features; bookmarks, history and download management, private browsing etc. The only downsides we could see were with the Import Bookmarks tool. This will not locate and use your other browsers' data, it imports from an XBEL or HTML file only.The extension support is, likewise, very limited as well. If you are looking for extensive preferences or settings to tweak around with, then this isn't the browser you are looking for.
Overall, if you are a power user, then keep clear. If, however, you need bare bones web browsing, Midori will provide you with a lightweight, trimmed web browser that is quick and easy to use.
Advertisement
Technical
Title:

Midori 0.5.11 for Windows

File size:

39.54 MB

Requirements:

Windows 98,
Windows Vista,
Windows 2003,
Windows 10,
Windows 8,
Windows XP,
Windows 2000,
Windows 7

Language:

English

Available languages:

English,
German,
Spanish,
French,
Italian,
Japanese,
Polish,
Chinese

License:

Free

Date added:

Tuesday, May 31st 2016

Author:

Christian Dywan

SHA-1:

d234412ae9755c522a72894ff95c9462d99e3035
Changelog
We don't have any change log information yet for version 0.5.11 of Midori. Sometimes publishers take a little while to make this information available, so please check back in a few days to see if it has been updated.
Can you help?
If you have any changelog info you can share with us, we'd love to hear from you! Head over to ourContact pageand let us know.