Free Vietnamese web browser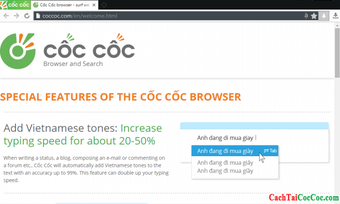 Cốc Cốc Browser is a free web browser designed by Cốc Cốc Company Limited and was developed in Vietnam. It's fast, confidential, convenient, and also extremely popular.
Cốc Cốc competes well with competitors such as UC Browser, Torch Browser and Baidu Browser. It's mainly an excellent option specifically for Vietnamese residents. If you're looking to change up your browser, this might just be your next choice.
Features
This web browser boasts several different features to attract users from the more commonly used browsers. From the software itself, users can download videos and music. There's also a built-in ad blocker to both load webpages faster and to prevent nuisances on screen.
Advertisement
The browser also has a personalised setup that is custom-catered according to your own interests. You can play various games and the latest tracks, pin a video so that you can keep browsing while listening to YouTube videos, and additionally, night mode lets you change your screen colour to protect your eyes from bright colours.
Shortcut keys & menu
The web browser also boasts shortcut keys that you can use, namely ALT + D if you'd like to use the browser bar. You can use Ctrl + T to create another tab. You can also use ALT + F to access the menu.
The menu has all the traditional features you can expect from a web browser, including bookmarks, recent tabs, history, downloads, incognito, settings and an option to log in to your Cốc Cốc account.
Additional information
Cốc Cốc is one of the most prominent local browsers in Vietnam and boasts millions of active users. It was initially released back in 2013 and is available for download in both English and Vietnamese. It's based on chromium open-source code.
Fast browsing
Cốc Cốc Browser is a great way to search the Internet. It's reliable, safe and efficient. It's also a unique choice if you're growing tired of using the same Windows web browser every day. With a whole range of helpful features preinstalled, it saves you tons of time spent installing extensions. It's well worth a download.
Advertisement
Technical
Title:

Côc Côc Browser 95.0.150 for Windows

Requirements:

Windows 7,
Windows 10,
Windows 8

License:

Free

Date added:

Friday, May 28th 2021

Author:

Côc Côc

Côc Côc Browser
95.0.150
Côc Côc(Free)
User rating User Rating 4
Changelog
We don't have any change log information yet for version 95.0.150 of Côc Côc Browser. Sometimes publishers take a little while to make this information available, so please check back in a few days to see if it has been updated.
Can you help?
If you have any changelog info you can share with us, we'd love to hear from you! Head over to ourContact pageand let us know.