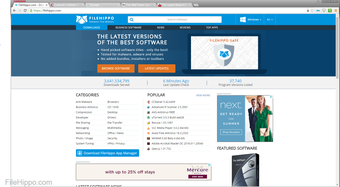 Comodo Dragon is a free Chromium technology-based web browser that takes security and privacy extremely seriously. It offers all the same features of Google Chrome and adds Comodo's unparalleled levels of security and privacy.
Comodo Dragon was developed to combat the growing sophistication of internet threats such as malware, viruses and phishing. It is designed to give you a greater level of security and privacy than Chromium technology currently offers by blocking web spies and trackers including cookies.
Key features include:
Unparalleled security.
Easy SSL Certificate Identification.
Fast website access.
Greater stability and less memory bloat.
Incognito mode.
Advertisement
With Comodo Dragon, you never need to worry about privacy and security while browsing, as Comodo takes care of it for you. It has privacy enhancements that exceed those in Chromium's technology and prevents all browser download tracking to ensure your privacy. It also has domain validation technology that identifies and separates superior SSL certificates from inferior ones and stops cookies and other web spies from tracking your browsing activity.
Overall, Comodo Dragon is a great alternative browser if you're looking for premium security and privacy. It includes all the same features that you get with Google Chrome but offers superior protection to users with enhanced security and privacy features.
Why not check out FileHippo's guide to other alternative browsers?
Advertisement
Technical
Title:

Comodo Dragon Internet Browser 64-bit 74.0.3729.157 for Windows

File size:

92.24 MB

Requirements:

Windows 98,
Windows Vista,
Windows 2003,
Windows 10,
Windows 8,
Windows XP,
Windows 2000,
Windows 7

Language:

English

Available languages:

English,
German,
Spanish,
French,
Italian,
Japanese,
Polish,
Chinese

License:

Free

Date added:

Monday, June 24th 2019

Author:

SHA-1:

af85fcf682e55716a3fd65d1b6bffc25c9bcded7

Comodo Dragon Internet Browser 64-bit
74.0.3729.157
Comodo(Free)
User rating User Rating 8
Changelog
We don't have any change log information yet for version 74.0.3729.157 of Comodo Dragon Internet Browser 64-bit. Sometimes publishers take a little while to make this information available, so please check back in a few days to see if it has been updated.
Can you help?
If you have any changelog info you can share with us, we'd love to hear from you! Head over to ourContact pageand let us know.