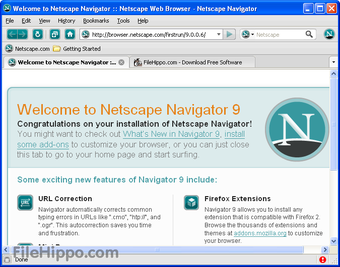 1/3
AOL stopped development of the Netscape browser in February 2008 so is no longer officially supported.
Netscape Browser provides more security options, streamlines more standard browsing tasks and arms internet users with more timesaving solutions to their browsing needs.
Security Center
Advertisement
Quickly view the status of security protection provided by the Netscape Browser. The browser will automatically let you know when there is a problem.
Spyware & Adware Protection
The Netscape Browser provides real time Spyware scanning when you download files from the web. You may also run memory and disk scans for Spyware protection and prevention.
Real-Time Feeds
The Netscape Browser takes the mystery out of Real Simple Syndication (RSS) and allows you to read and manage RSS feeds without the need of a separate news reader application.
Profiles
Create more than one profile to keep your bookmarks and passcards safe from other users. If you have a family, create a profile for your children and make use of the parental controls feature.
Tabbed Browsing
Tabbed browsing lets you have multiple web pages open in one window. This feature is great for organizing and freeing up desktop space because it files your web pages in a series of tabs.
Site Controls
The new Netscape Browser gives you more ways to make your browser secure.
Advertisement
Technical
Title:

Netscape 9.0.0.6 for Windows

File size:

6.06 MB

Requirements:

Windows 98,
Windows Vista,
Windows 2003,
Windows 10,
Windows 8,
Windows XP,
Windows 2000,
Windows 7

Language:

English

Available languages:

English,
German,
Spanish,
French,
Italian,
Japanese,
Polish,
Chinese

License:

Free

Date added:

Thursday, February 21st 2008

Author:

Netscape

SHA-1:

b894014187511c79edeb9af19a7c3842e15e7a95

Netscape
9.0.0.6
Netscape(Free)
User rating User Rating 8
Changelog
We don't have any change log information yet for version 9.0.0.6 of Netscape. Sometimes publishers take a little while to make this information available, so please check back in a few days to see if it has been updated.
Can you help?
If you have any changelog info you can share with us, we'd love to hear from you! Head over to ourContact pageand let us know.