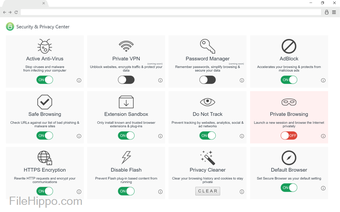 Secure Browser is a fast, secure and private web browser that has been designed for everyone. With a built-in Security & Privacy Center, Secure Browser has the worlds first browser integrated security and privacy management console. It is built on the ultra-fast Chromium rendering engine, and it also has AdBlock built-in to load webpages even faster and more securely.
Secure Browser comes with an armoury of security features and tool to ensure you remain as safe as possible while online. For instance, Secure Browser is 'Sandboxed' to stop unwanted browser extensions from maliciously compromising your privacy, identity and personal data.
Key Features include:
Active Anti-Virus: Stop viruses and malware from infecting your computer.
AdBlock: Browse up to 60% faster and block malicious ads known as 'malvertising'.
Safe Browsing: Alerts and protects against visiting malicious websites, phishing attacks and downloads.
Private Browsing: Blocks a record of your activity online and blocks online tracking pixels and cookies.
HTTPS Encryption: Ensures encrypted website communications when supported.
Extension Sandbox: Block unwanted and malicious extensions and plugins.
Do Not Track: Gives more control over opting out of tracking and profiling.
Disable Flash: Automatically block flash to reduce latency, power consumption and increase security.
Privacy Cleaner: One-click clearing of your personal browsing history and any stored cookies.
Advertisement
Take control of your security and privacy with the Security & Privacy Center and join a fast-growing worldwide community.
With several privacy features such as Private Browsing, built in password manager,* https encryption, do-not-track, flash protect, and a privacy cleaner, you can browse with complete confidence knowing that your data will always remain as secure as possible. Secure Browser really does pull out all the stops when it comes to security. In fact, you couldn't ask for more in a web browser. It is lightweight, very easy to setup and use and the configuration options are fairly flexible. Overall, Secure Browser is really good at doing what is designed to do: keeping you secure online.
Requirements: Core i3 processor or equivalent.
*Coming soon.
Advertisement
Technical
Title:

Secure Browser 53.0.2785.240 for Windows

File size:

1.26 MB

Requirements:

Windows 98,
Windows Vista,
Windows 2003,
Windows 10,
Windows 8,
Windows XP,
Windows 2000,
Windows 7

Language:

English

Available languages:

English,
German,
Spanish,
French,
Italian,
Japanese,
Polish,
Chinese

License:

Free

Date added:

Friday, October 7th 2016

Author:

Safer Technologies LLC

SHA-1:

aa6b8970b8306f2db91c9e9bc03d02d758ca037c
Changelog
We don't have any change log information yet for version 53.0.2785.240 of Secure Browser. Sometimes publishers take a little while to make this information available, so please check back in a few days to see if it has been updated.
Can you help?
If you have any changelog info you can share with us, we'd love to hear from you! Head over to ourContact pageand let us know.