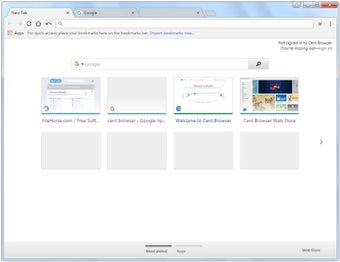 1/3
Cent Browser is a third-party-developed Chromium-based search engine. It features a minimalist UI that isn't short on functions. It sticks to the original look of Chromium while adding an array of extra options.
Customisable browsing experience
With a shared software foundation with Google Chrome, Cent Browser boasts advanced and reliable features of its parent. As Chrome does, Cent enables users to pick browser themes, add many extensions, and browse in incognito mode.
Large list of additional features
Cent stands out from the competition thanks to the vast selection of extra functions. Users get to take advantage of mouse gestures for increased functionality. This browser opens incognito mode in a new tab, rather than a new window.
Advertisement
Incorporates elements of Mozilla Firefox
It's no surprise that Cent shares some functions with Chrome, but this search engine also added several Firefox features to combine the best from both. There are also unique tools, such as a QR code generator and a boss key. You can also install Chrome extensions and log into your Google account while using this browser.
Best of Both Worlds
Cent browser offers full compatibility with Google Chrome apps and extensions, meaning that by switching, you're not giving up any benefits. With its extra features, it seems an obvious choice, but there is a downside to this app. If you don't know about the different additions you can add, then you won't be using this programme to its fullest extent.
Advertisement
Technical
Title:

Cent Browser 3.8.5.69 for Windows

Requirements:

Windows 8.1,
Windows 8,
Windows 2003,
Windows Vista,
Windows XP,
Windows 7

Language:

English

License:

Free

Date added:

Thursday, October 17th 2019

Author:

Cent Browser

SHA-1:

84adc91962823c28087976ebc07e5a09334cc59d

Cent Browser
3.8.5.69
Cent Browser(Free)
User rating User Rating 8
Changelog
We don't have any change log information yet for version 3.8.5.69 of Cent Browser. Sometimes publishers take a little while to make this information available, so please check back in a few days to see if it has been updated.
Can you help?
If you have any changelog info you can share with us, we'd love to hear from you! Head over to ourContact pageand let us know.