An open-source web browser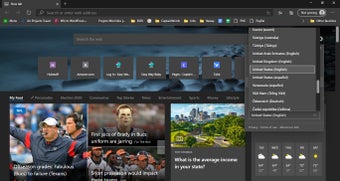 1/3
Chromium is the open-source version of the vastly popular Google Chrome. It features the development build that they use to continue to update the latest versions of the web. While it is different, it remains similar to the regular Chrome.
User Interface
Chromium is quite similar to Chrome as they are based on Chromium OS. It features the all-in-one tab that has the setting and bookmarks. There is no scrolling mechanism for when you open up too many tabs, making it difficult to switch between them when you have many open.
Features
The main characteristic Chromium comes with is the ability to have all your Google account information synchronised with it. The software is ideal for people who are developing websites or who want to develop extensions, as they can make the most of the dev build.
Advertisement
It also comes with the ability to use a wide variety of extensions to make the user's life easier. Google Translate comes pre-loaded into the browser. It is safe and has no viruses.
Problems
The main issue with it is the lack of updates. You will have to ensure that your version remains up to date. Finding these upgrades can be a hassle because there are a variety of versions on the internet.
While the browser is one of the fastest, it consumes a lot of RAM. This problem worsens if you keep a lot of tabs open.
Alternatives
Google Chrome is the first competitor as it's almost identical. If you do not need an open-source program, there is no reason to use Chromium over Chrome as it is inferior to the official release in most aspects.
Firefox is another great option. It doesn't feature the same ease of use, but it is much more concerned with your security. If you are worried about having your data stolen or desire a programme that consumes less RAM, Mozilla Firefox is for you.
Not necessary
Overall, Chromium does not add any value beyond what Chrome already has, making it inferior. It just comes with a variety of complications that won't give you any added benefits in personal use. In conclusion, it is identical to Google's browser but with the experimental build component. It is not a necessity to have.
Advertisement
Technical
Title:

Chromium 91.0.4450.0 for Windows

Requirements:

Windows 7,
Windows 8.1,
Windows 10,
Windows 8

Language:

English

License:

Free

Date added:

Friday, July 3rd 2020

Author:

Google

SHA-1:

64ff4b94c4573676558786c462250497eda274bd
Chromium
91.0.4450.0
Google(Free)
User rating User Rating 7
Changelog
We don't have any change log information yet for version 91.0.4450.0 of Chromium. Sometimes publishers take a little while to make this information available, so please check back in a few days to see if it has been updated.
Can you help?
If you have any changelog info you can share with us, we'd love to hear from you! Head over to ourContact pageand let us know.