Internet Explorer 10 covers all of your web-browsing needs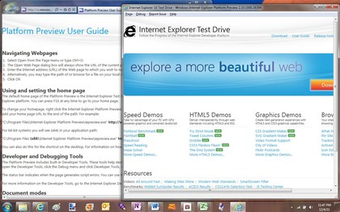 1/5
Internet Explorer 10 remains one of the most widely-used web browsers in the world today, despite stiff competition from rivals like Mozilla Firefox and Google Chrome. As it has developed, Internet Explorer has expanded its range of features to ensure that it still has something to offer ahead of its competitors.
There will always be pros and cons for each browser, of course, so it is worth familiarising yourself with exactly what internet Explorer 10 has that other browsers lack: the features and attractions that make it such a widely-used tool for browsing the web.
Well-designed and easy to use
While the internet Explorer interface may at first glance be clunkier and more cluttered than its leaner rival Google Chrome, it had good reason for this: it is designed so that a whole range of tools and features are at your fingertips. The combined address bar-search tool, the row of tabs, the bookmark star and the keyword search all combine to give you everything you need for casual web-surfing.
Advertisement
Security features for safe surfing
As you'll be aware, the internet is rife with security concerns, but Internet Explorer 10 is equipped to deal with these. Do Not Track is a default feature, and the browser also enables Do Not Track. Meanwhile, additional features will protect your downloads and block malware websites. For most users, this will be more than enough for peace of mind when browsing the internet.
A solid all-round web browser
Different browsers will suit different users, but Internet Explorer 10 has something for everybody. Whether you value accessible design, a range of useful tools at your disposal or solid security, you will find all of these factors covered by Internet Explorer 10. Perhaps one of its biggest virtues is that it is easy to get to grips with: even if you are used to rival browsers, you should have no trouble learning how to use IE.
Advertisement
Technical
Title:

Internet Explorer 10 for Windows 7 10.0.9200.16521 for Windows

Requirements:

Language:

English

Available languages:

English,
Arabic,
Chinese,
Czech,
Danish,
German,
Greek,
Spanish,
Finnish,
French,
Italian,
Japanese,
Korean,
Dutch,
Norwegian,
Polish,
Portuguese,
Russian,
Swedish,
Turkish

License:

Free

Date added:

Monday, May 17th 2021

Author:

Microsoft

Internet Explorer 10 for Windows 7
10.0.9200.16521
Microsoft(Free)
User rating User Rating 4
Changelog
We don't have any change log information yet for version 10.0.9200.16521 of Internet Explorer 10 for Windows 7. Sometimes publishers take a little while to make this information available, so please check back in a few days to see if it has been updated.
Can you help?
If you have any changelog info you can share with us, we'd love to hear from you! Head over to ourContact pageand let us know.