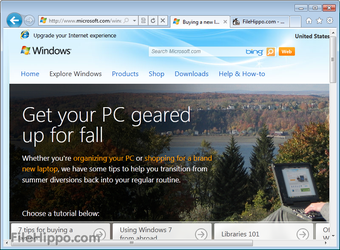 1/3
Advertisement
Internet Explorer is the world's most popular Web browser. Security, ease of use, and improvements in RSS, CSS, and Ajax support are Microsoft's priorities for Internet Explorer. This version of IE runs on the 64-bit version of Windows 7.
The latest version of the browser includes support for:
Accelerators – which allow supported web applications to be invoked without explicitly navigating to them.
WebSlices – which allows portions of page to be subscribed to and monitored from a redesigned Favorites Bar.
InPrivate privacy features.
SmartScreen phishing filter.
Advertisement
Technical
Title:

Internet Explorer Windows 7 64 11.0 Windows 7 64 for Windows

File size:

55.92 MB

Requirements:

Windows 7,
Windows 8,
Windows 10

Language:

English

Available languages:

English,
German,
Spanish,
French,
Italian,
Japanese,
Polish,
Chinese

License:

Free

Date added:

Friday, November 8th 2013

Author:

Microsoft Corporation

SHA-1:

ddec9ddc256ffa7d97831af148f6cc45130c6857
Changelog
We don't have any change log information yet for version 11.0 Windows 7 64 of Internet Explorer Windows 7 64. Sometimes publishers take a little while to make this information available, so please check back in a few days to see if it has been updated.
Can you help?
If you have any changelog info you can share with us, we'd love to hear from you! Head over to ourContact pageand let us know.